THE BELL RINGER (PREVIEW)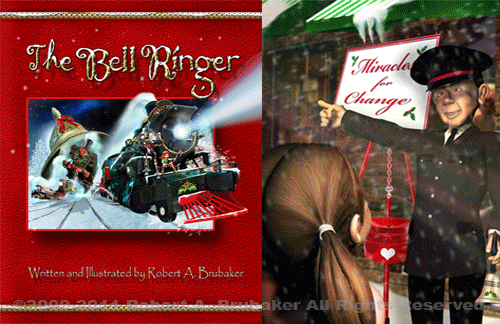 | | |
| --- | --- |
| | ©2011 Robert A. Brubaker - All Rights Reserved - Available Now! |
Author: Robert A. Brubaker
Illustrator: Robert A. Brubaker
Publisher: Gilded Magic Publishing
Reading Level: Ages 4-8 (or anyone who loves an exciting, colorful holiday adventure.)
List Price: $16.99
8.5" x 11" (21.59 x 27.94 cm)
Full Color Bleed on White paper
56 pages
ISBN-13: 978-0984879403
ISBN-10: 0984879404
BISAC: Juvenile Fiction / Holidays & Celebrations / Christmas & Advent

The Story: A mischievous young thief is hurled through time on an adventure to discover forgiveness and the true meaning of Christmas.



Author / Illustrator: Robert A. Brubaker
Company: Gilded Magic Publishing
Website: www.gildedmagic.com

About Robert: Robert is a multi-media "Jack Of All Trades" who graduated with a Fine Arts Degree from The Ohio State University in 2002 with a primary focus in film and video production. Collaborating with Sherry K. Brubaker, Robert illustrated Sherry's first picture book entitled Cup Of Glitter which out of eleven countries was recognized as an Award-Winning Finalist in the 2011 International Book Awards, and a USA Best Books 2011 Award-Winning Finalist.

The Bell Ringer, Robert's first book where he is both writer and illustrator, is a heart-warming holiday story about a young thief who discovers the true meaning of Christmas. Scheduled for release in time for the 2011 holidays The Bell Ringer will include a RADIO TELEPLAY version on CD complete with Hollywood level sound effects, original score and narration.