CUP OF GLITTER (PREVIEW)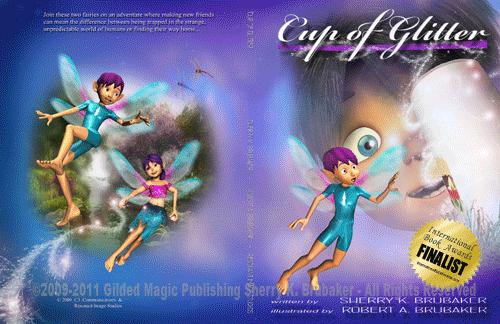 | | |
| --- | --- |
| | ©2009-2011 Gilded Magic Publishing - All Rights Reserved: ON SALE NOW |
Author: Sherry K. Brubaker
Illustrator: Robert A. Brubaker
Publisher: Gilded Magic Publishing
Reading Level: Ages 4-8 (or anyone who loves a fun, colorful story)

The Story: Two fairies, "Dart" and "Glitter" face being trapped in the strange and unpredictable world of humans. Their only chance to return home is to get help from a few new friends.

Published by: Gilded Magic Publishing (April 2, 2010)
Full Color Paperback: 34 pages
Language: English ISBN-10: 1451535236
ISBN-13: 978-1451535235
Product Dimensions: 10 x 8 x 0.1 inches
Shipping weight: 4.5 ounces


SAMPLE TESTIMONIALS:

June 08, 2011: E-mail response
My children and I just love your book Cup Of Glitter. It is my 5 year old daughter's number one choice when it comes to story time. The illustation is so life like and I can't wait to read your next book. Thank you for such a great story - Kara

February 16, 2011: Barnes & Noble
Cup of Glitter... Check it out your kids will love it!!! Very creative story and animation. Nice Illustration and easy read for kids of all ages. - Rebecca
April 7, 2010: Amazon.com
Sherry has written a delightful, colorful fantasy-adventure that any parent would enjoy reading to their children. Your children will likely want to read the story over and over again. "Cup of Glitter" is bound to be a classic! Don't miss out! Buy your own copy today! - Anonynous

RETAIL PARTNER LINKS:

Author: Sherry K. Brubaker
Company: Gilded Magic Publishing
Website: www.gildedmagic.com

About Sherry: Sherry is an International Book Award Winning Author and CEO of Gilded Magic Publishing. Sherry enjoys writing stories for children that entertain, educate, motivate and inspire them to reach for their dreams and goals. She has a Bachelor's degree in Psychology and a Master's degree in Education. Together with her husband, Robert A. Brubaker, a Multi-media Producer and Illustrator, they create stories to spark the imagination of each reader.